Despite the fact that it passed the Senate Executive Committee late Thursday in an 8-5 vote, Illinois Senate Democrats say there is not enough time left in the lame duck session for the full Senate to address the marriage equality bill, the Sun Times reports: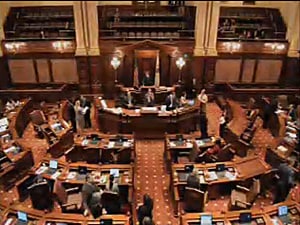 With the lame-duck General Assembly poised to finish its two-year term next Wednesday, the failure to pass gay-marriage or gun-control packages to the House demonstrated that math wasn't on the side of supporters of the high-profile legislation and enhanced the likelihood of a slew of unfinished business spilling into the spring, including pension reform, Gov. Pat Quinn's highest priority for the lame-duck session.
"We start up again next Wednesday, and I think that on these issues there may be even more support for them in the next General Assembly," Cullerton (D-Chicago) said, speaking of guns and gay marriage.
According to the Windy City Times, activists are conflicted about the concession:
Despite passing as an amendment to another bill in the Senate executive committee Thursday evening, advocates decided to regroup and present a new bill in the Senate and House starting next week, the start of the 98 General Assembly.
"There is no way for us to pass the bill in one house and continue in the other house in next assembly," said Bernard Cherkasov, CEO of Equality Illinois, one of several groups pushing for marriage equality in the state. "With just a handful of days remaining in the current lame duck session, time to move the bill through both chambers is not on our side."
Rick Garcia, senior policy advisor for The Civil Rights Agenda, was upset with the decision to back down now. He said late Thursday night that he thinks the measure had a chance.
"What I have learned—and I have been down here [in Springfield] for 20 years, and I have worked things—is that on every piece of legislation I have worked on, there are dark times, when you think it's not going to go. You push forward, and you stand firm, you move and move until you can't move any more. To throw in the towel now is a stupid maneuver. TCRA is here, and we've been here for past three years, and we knew nothing about this decision until we saw the press release."
In a statement, EI said: "Our opponents should not believe they have turned the tide against the growing national and Illinois consensus favoring marriage equality. The clock simply ran out, and our legislative supporters ran out of time."
The good news is, support for the bill looks very strong for next session. NOM and other anti-gay groups should be doing anything but declaring victory.