NOM's Maggie Gallagher says good-bye to her syndicated column.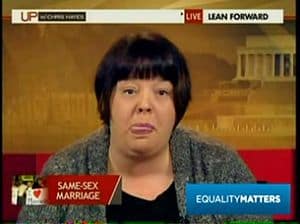 Here are a couple excerpts:
Men and women are different. A society that pretends otherwise is not going to raise boys to be loving, reliable family men. Marriage is about settling for less but raising up an ideal much bigger and more important even than the most urgent whispered promises of romantic love.
Sex makes babies. Society needs babies. Babies need their mother and their father. Men and women need each other. We all need a strong marriage culture, whether we choose to marry or not. If it is true that sex makes babies, then that is clearly the most important thing about sex, the thing around which a decent person or society will organize sexual values, behavior and norms.
If they saw clearly. If they were only told the truth. For of all the ways adult society can abandon the young, one of the worst is to ignore the key adult task of creating and sustaining a larger meaning for sex and sexual desire for young people.
And more:
Without a powerful ideal of masculinity that points men toward marriage and fatherhood, more and more young men are deciding the hard work of becoming marriageable is not worth it: Porn, beer, video games with the guys, freedom and fleeting sexual encounters are good enough. The most urgent overlooked need is the deep need of boys for masculine ideals.