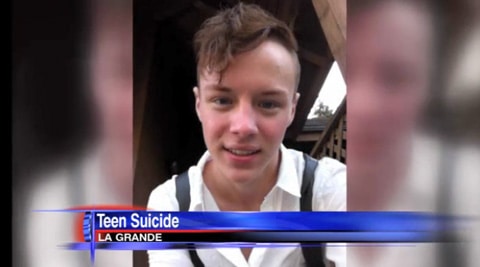 A tragic story out of La Grande, Oregon, where 15-year-old Jadin Bell has been taken off of life support after hanging himself in a schoolyard last week, KOMO News reports:
Dozens of people came together last week in La Grande in a vigil for Jadin, trying to understand what drove him to despair nine days ago. He came to the playground of Central Elementary School in La Grande. He climbed on a play structure and hanged himself. Someone passing by tried to rescue him. He was brought to Portland and Doernbecher Children's Hospital where he was put on life support.
Hill says Jadin was pushed to suicide after being bullied in person and on the Internet for being gay.
"He was different, and they tend to pick on the different ones," Hill said.
Hill says Jadin asked his parents to home school him. He feared turning in the bullies would make things worse. But he had found the courage, recently.
Watch KOMO's report, AFTER THE JUMP…
 If you are considering suicide or need someone to speak with, please call the Trevor Lifeline at 1-866-488-7386.