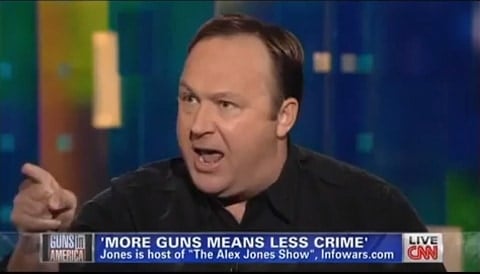 Piers Morgan invites Alex Jones, the 9/11 Truther behind the White House petition seeking to deport Morgan for his anti-gun advocacy, on his show for a "proper" debate, but quickly learns that Jones doesn't know how to have one. The show quickly turns into a wrath-fest aimed at Morgan.
"1776 will commence again" if guns are taken away, Jones explodes.
"You're a hatchet man of the new world order. You're a hatchet man! And I want to say this right here. You think you're a tough guy? Have me back with a boxing ring in here. I'll wear red white and blue, and you wear your jolly roger."
Watch the explosive interview, AFTER THE JUMP…