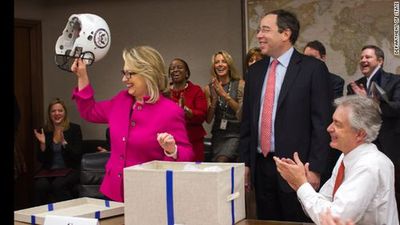 PHOTO OF THE DAY: Hilary heads back to work with some new protection. 
BY SAM GREISMAN
A look back at yesterday's top stories
ENTERTAINMENT
Kyle XY actor and all-around cutie Matt Dallas told the world that he was gay Sunday night when he tweeted a picture of his fiance! Congrats to him!
Speaking of cute guys, Dave Franco spoke with Bullet Magazine about that time that he f**ked himself. In a straight up bizarre story, conservatives are accusing CBS of "pushing a gay agenda" and mocking Christians by using Neil Patrick Harris in a superbowl promo in which he wears eye-black. As if Tim Tebow has a trademark on that. 
**
GAY ISSUES
The Supreme Court has decided on two days in March (the 26th and 27th) as the dates for oral arguments involving Prop 8 and DOMA cases. Looking to trade in your homosexuality?  Well Chick-fil-A has just the deal for you! Also, progress in Atlanta where Morehouse, the all-male African American college, will offer its first LGBTQ course.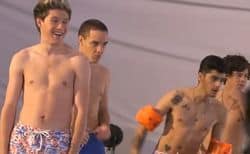 **
CHUCK HAGEL
In case you missed it President Obama has named former Senator Chuck Hagel as Defense Secretary, despite outcries from groups such as the Log Cabin Republicans who believe he is anti-gay. On that score, the White House released a statement today in which they state that Obama believes Hagel's apology for anti-gay remarks he made in the 1990's. MSNBC's Thomas Roberts sat down with the executive director of the Log Cabin Republicans to find out more about their objection to Hagel's appointment. 
**
VIDEO OF THE DAY
Some shirtless One Direction in their video for "Kiss You". 'Nuff said.