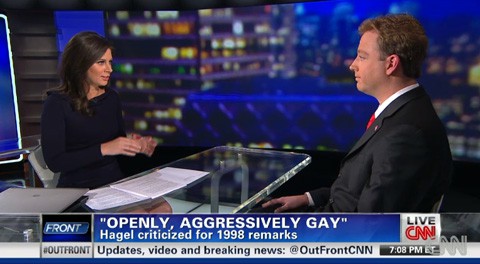 Following the publication of a new full-page ad from the Log Cabin Republicans attacking Chuck Hagel's nomination as Defense Secretary, more voices are chiming in with questions about who might be behind the funding of the group's ads.
Andrew Sullivan was asking the question over the holidays when LCR's NYT ad went up, and got a tepid response.
Now, David Mixner and John Aravosis are scratching their heads.
Can't help but wonder if their funds wouldn't be better spent running a full page ad asking the House Republicans to cease and desist from financing the opposition in the legal battle for DOMA. Or maybe the Log Cabin Republicans can take all their newly discovered wealth and pay for full page ads demanding the Republicans support a trans-inclusive ENDA. Surely we would welcome them using their money to pay for an ad that lists all the Republicans who now support marriage equality?
Nope, they run an ad that omits key information, says Hagel apology is not sincere enough and that this issue is the most important ever for the Log Cabin Republicans. Really, this is what we should be spending our time on? This is how we should be spending tens of thousands of dollars?
Let's be honest here. Someone is using the Log Cabin Republicans for another agenda and financing these ads. The Log Cabin Republicans in order to have credibility must show us who are financing these ads. That kind of money sure hasn't been sitting in their accounts all year long. I promise you that is a fact. Show us the money!
I will say that I have growing concerns, not about Hagel, but about the gay Republican group Log Cabin Republicans, and whether we are witnessing another gay organization in a payola, pay-for-play, -type scandal that we previously had with GLAAD (and AT&T) and the NGLTF (and gambling interests), where both gay groups weighed in on an issue that didn't seem to have a terribly gay angle, only to later found out that a not-gay-at-all outside interest was pulling their strings, and undermining our own community and its ongoing credibility…
…What makes Log Cabin's new-found interest in anti-gay Republicans so curious is Log Cabin's long-standing disinterest in standing up to anti-gay Republicans.  Log Cabin had no problem defending John Ashcroft, when he was attacked for his anti-gay comments about Hormel.  And Log Cabin had no problem getting in bed with Mitt Romney, when the GOP presidential candidate renounced pretty much every pro-gay position he had previously ever held.
Log Cabin's tag line on the ad is "Chuck Hagel's apology: Too little, too late."  One could use the same tag line about Log Cabin's sudden interest in standing up to anti-gay Republicans.
Watch LCR interim executive director Gregory T. Angelo on CNN yesterday,
AFTER THE JUMP…