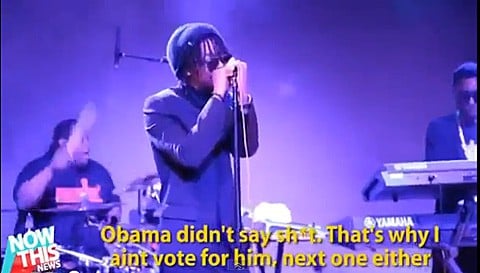 Grammy-winning rapper Lupe Fiasco was removed from the stage Sunday night at the Inauguration Celebration Party sponsored by StartUp RockOn after a lengthy, politically-charged set which reportedly went on for 30 minutes when he reportedly refused to move on to the next song from one with lyrics that included:
"Limbaugh is a racist, Glenn Beck is a racist. Gaza Strip was getting bombed, Obama didn't say s—t. That's why I ain't vote for him, next one either."
Shortly thereafter, security appeared and escorted Fiasco from the stage.
Watch, AFTER THE JUMP…
The party's sponsor Hypervocal released a statement denying the rapper was removed for his lyrics:
StartUp RockOn is all about startups helping startups. At Sunday night's Inauguration Celebration at the Hamilton Live, organizers set out to honor innovative visionaries with grants, accolades and a party worthy of the success we achieved at the RNC and DNC this summer.
Lupe Fiasco performed at this private event, and as you may have read, he left the stage earlier than we had planned. But Lupe Fiasco was not "kicked off stage" for an "anti-Obama rant." We are staunch supporters of free speech, and free political speech. This was not about his opinions. Instead, after a bizarrely repetitive, jarring performance that left the crowd vocally dissatisfied, organizers decided to move on to the next act.