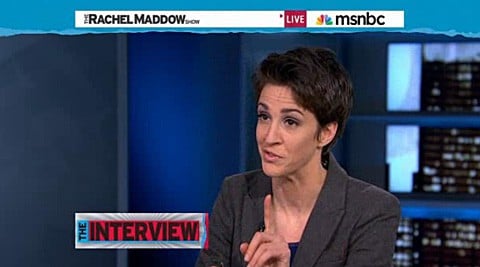 Last night, Rachel Maddow and Frank Rich hashed out Obama's Stonewall reference:
We, the people, declare today that the most evident of truths – that all of us are created equal – is the star that guides us still; just as it guided our forebears through Seneca Falls, and Selma, and Stonewall; just as it guided all those men and women, sung and unsung, who left footprints along this great Mall, to hear a preacher say that we cannot walk alone; to hear a King proclaim that our individual freedom is inextricably bound to the freedom of every soul on Earth.
Maddow theorizes that it was a shout-out to the Supreme Court, preemptive of its decision on DOMA and Prop 8. And Rich believes it was specifically for Chief Justice John Roberts.
Watch, AFTER THE JUMP…
Visit NBCNews.com for breaking news, world news, and news about the economy