Last night, longtime activists Cleve Jones and David Mixner posted "a call to action", calling for local demonstrations and grassroots actions around the time the Supreme Court will hear the Prop 8 and DOMA cases on March 26 and 27.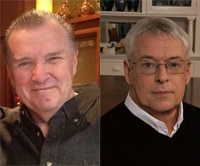 Write Jones and Mixner: "Between us, we have over 80 years of experience in the movement for peace and social justice. In particular, as gay men, we have fought for the rights and dignity of our own community, known today as LGBT. We do not claim that age necessarily brings wisdom, but it does bring memories and we have many…Now is the time, once again, to recognize the unique moment before us and to act with the greatest power and intelligence possible."
The activists do not suggest a march to oppose the one being organized by the National Organization for Marriage (NOM). "Ignore them," they say. Instead, they "encourage all LGBT advocates and all fair-minded Americans who believe in equality and justice to take part in public actions on during the last week of March."
Read their suggestions instead, AFTER THE JUMP…
Read their full post HERE.
Here is their Facebook page, National Equality Action.
-If you can be in Washington DC, there will be peaceful and civil demonstrations of support for the cases at the Supreme Court on March 26 and 27. While there you can also visit your members of Congress to lobby for the Employment Non-Discrimination Act and Uniting American Families Act as well as marriage equality. Our opponents will also be marching – ignore them.
-For those who cannot travel, there will be local organizing opportunities and plans underway in all 50 states that will mirror the events before the Supreme Court. Stay tuned. Visit your Representative's local district offices. Hold teach-ins, campus rallies and town halls. Involve our allies in women's organizations, the labor movement, racial and ethnic minorities and immigrant communities.
-Like, share, post and retweet images and infographics you will see designed to gain broad support for the cases. Post your support for marriage equality in the week leading up to the court cases. Remember that positive portrayals of LGBT Americans go a lot farther and are more effective than efforts to tear down our opponents.
-Visit the editorial boards of your local newspapers and request editorials in support of equality to run during the last week of March. Submit letters to the editor in support of marriage equality.
-Reach out to our many allies within faith communities and organize inter-faith events on Saturday and Sunday, March 23 and 24.
-Speak to the larger issue of equality, not limited to marriage. We seek equal protection under the law, in all matters governed by civil law, in all fifty states.
-Organize peaceful demonstrations for LGBT equality in every city and town across our country at sunset on Monday, March 25 – the anniversary of the Selma march – to put action to the President's words.