As I mentioned on Monday, Nate Silver did an AMA (Ask Me Anything) interview on Reddit yesterday.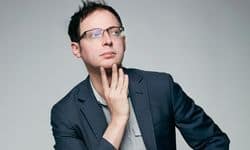 Reddit user snsiegel asked Silver:
In a recent profile, you stated you wished not to be known as a "gay statistician" but as a statistician who happens to be gay. Isn't that a bit naive in today's political and social climate? Don't you think that whether you like it or not, people will treat you differently because you are gay and that your identity as a gay man cannot be limited to your private sexuality? As someone so ubiquitous now in the public sphere, should you be addressing issues in your writing that are related to gay rights as much as baseball?
Replied Silver:
It's a complicated issue that maybe doesn't lend itself so well to the reddit treatment.
My quick-and-dirty view is that people are too quick to affiliate themselves with identity groups of all kinds, as opposed to carving out their own path in life.
Obviously, there is also the issue of how one is perceived by others. Living in New York in 2013 provides one with much a much greater ability to exercise his independence than living in Uganda — or for that matter living in New York forty years ago. So perhaps there's a bit of a "you didn't build that" quality in terms of taking for granted some of the freedoms that I have now.
And/but/also, one of the broader lessons in the history of how gay people have been treated is that perhaps we should empower people to make their own choices and live their own lives, and that we should be somewhat distrustful about the whims and tastes and legal constraints imposed by society.
There were many more questions. You can read them on Reddit, or as a transcript in the NYT.