Stacie Laughton, the first transgender person elected to office in New Hampshire, will not run for the seat she resigned after it was revealed she was convicted of conspiracy to commit credit card fraud.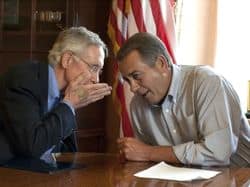 House Speaker John Boehner had some choice words for Sen. Harry Reid during the fiscal cliff negotiations at the White House: "Go f*ck yourself."

Meanwhile, right-wing website Breitbart is starting to beat the "oust Boehner" drum.

Here's a fun interactive graph about where the 50 United States stand on LGBT rights.

Richard Socarides on the push for marriage equality in Illinois: "Illinois, being the President's home state and containing four per cent
of the total U.S. population, would be a big win for marriage-equality
advocates."

Hillary Clinton has left New York Presbyterian as she continues to recover from a blood clot near her brain.

Natural born smooth talker: "Just
hours after they're born, babies seem to be able to tell the difference
between sounds in their native tongue and a foreign one, according to a
new study that suggests language learning begins in utero."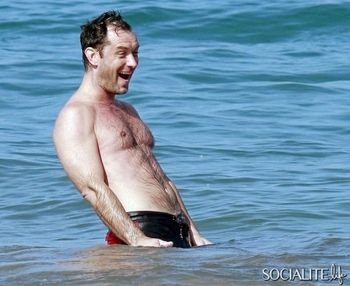 A shirtless Jude Law looks fit and fine vacationing in Maui.

Anne Hathaway looks lovely on the cover of Harper's Bazaar UK.

Brad Pitt and Angelina Jolie reportedly tied the knot on Christmas.

NYE fireworks in reverse.

Take some time to read my old friend Cord Jefferson's wonderful piece about depression, adventure and finding clarity in life.

Katie Holmes and Jake Gyllenhaal are not a couple.

New track from Azaelia Banks, "Bad Bitches Doin'."

Lindsay Lohan has been evicted from her home in Hollywood. Hopefully this will inspire her to get the help she so desperately needs.

"Whatever happened to comic books?"

A completely sci-fi prediction about religion in 2060 from homophobic hate leader David Barton: "Conservative Christians will be treated as second class citizens, much like African Americans were prior to civil rights legislation in the 1960s. Family as we know it will be drastically changed with the state taking charge of the children beginning at birth. Marriage will include two, three, four or any number of participants. Marriage will not be important, with individuals moving in and out of a 'family' group at will. Church buildings will be little used, with many sold to secular buyers and the money received going to the government. Churches will not be allowed to discuss any political issues, even if it affects the church directly." Yeah, right.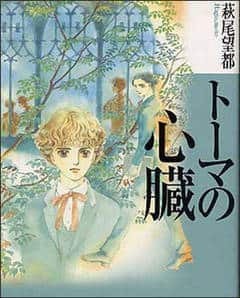 A look at the wild popularity of shojo manga, a genre that focuses on teen boys' gay love, among straight women in Japan: "The genre of boys' love, in other words, allows [authors and] readers to
place themselves in a position of power and aggrandizement that is rare
for women—as the distanced, masterful position, letting his (or her)
eyes roam across variegated objects of desire."

"The Private War That Killed Spencer Cox."

If you can, pick up this week's edition of The New Yorker to read Daniel Mendelsohn's incredible piece about how historical novelist Mary Renault's work helped him come to terms with his own sexuality. The magazine's abstract elaborates: "Reading her books, the writer felt a shock of recognition… After reading Renault's The Charioteer, which is set during the Second World War and wrestles with the issue of 'Greek love,' the writer wrote in his diary, 'I know what I am. Now I must think what to do with it.'"

From "The Catholic Church's new gay insult:" "It would be unrealistic to expect the Catholic Church to make a sudden about-face on the issue of equality. It's been doing the 'Homosexuality is an offense to God' shtick a really long time and that's a hard habit to break. But the religion whose pope declared in 1866 that slavery wasn't necessarily against 'natural' law does have a track record of sometimes evolving in light of compelling social change."