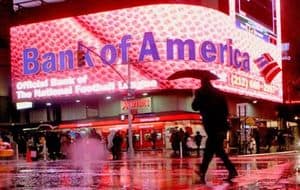 The Department of Housing and Urban Development today announced that Bank of America has settled a discrimination claim filed by a Florida lesbian couple denied a mortgage because they're not legally married, something they can't do in Florida.
This is the first time HUD's new rules prohibiting discrimination against LGBT people, particularly those who are unable to get married.
Details about the claim from HUD:
HUD claimed BOA denied a loan to a Florida couple seeking to obtain an FHA-insured mortgage because of their sexual orientation and marital status.  Because one partner was not employed, the applicant enlisted her partner's mother as a co-applicant on the loan. The couple worked with BOA for several weeks to provide all of the necessary loan application documents and the couple was assured by BOA that they were likely to receive a mortgage.

One business day prior to closing, BOA denied the mortgage because it did not consider the loan applicant and the co-applicant directly related because the applicant and her partner were not married. As a result of BOA's actions, the couple was not able to close on the loan.
BOA will pay HUD $7,500 for its violation and has agreed to inform all mortgage agents of the new rules.
HUD General Counsel Helen Kanovsky said the "agreement demonstrates that HUD will vigorously enforce its Equal Access rule and pursue lenders that discriminate on the basis of sexual orientation, gender identity or marital status."
She went on, "By the same token, BOA should be commended for stepping up and taking immediate corrective action after HUD notified BOA of the violation."