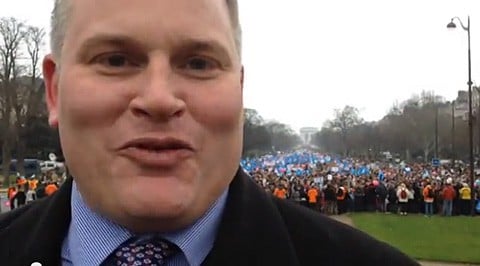 Last weekend's anti-gay marriage march in Paris, which was attended by hundreds of thousands of mostly Catholics was also attended by NOM's Brian Brown, who recorded a giddy video for his supporters.
Check it out, AFTER THE JUMP…
Yesterday, the Human Rights Campaign hailed the end of NOM, calling it a paper tiger:
A new opposition research report out from HRC today finds that NOM was largely a paper-tiger movement this past year. In New York specifically, NOM promised that it would spend $2 million to defeat the four Republican State Senators in New York who backed the legislature's same-sex marriage bill in 2011. NOM then backpedalled, saying it would spend $250,000 in the primary fights. According to NOM PAC NY's campaign finance reports, it only raised $45,000 and only spent $40,000 in 2012 – nowhere near what it claimed it would spend.
The momentum for marriage equality is indisputable. Four state legislatures passed same-sex marriage legislation during 2011-12, and voters in four states for the first time in history approved marriage equality on the ballot last November. This string of legislative and electoral victories would not have been possible without Republican support. National and statewide polling consistently shows majorities – including African Americans, Latinos, millennials, Democrats, and Independents – back gay and lesbian couples receiving marriage licenses. And marriage equality supporters have more intensity than opponents, according to a recent post-election poll conducted by Greenberg Quinlan Rosner.
Opponents' financing is also drying up. They were outspent almost three to one last year, $12 million to $34 million in the ballot campaigns. More broadly, tax documents obtained by HRC last fall show that NOM's funding declined by one-third for 2011 – and that a whopping 75 percent of the anti-gay organization's funding came from just two donors. It's not surprising then that NOM is unable to follow through on the threats the group makes to Republicans supportive of marriage equality.
Read HRC's report HERE.
Watch Brian Brown, AFTER THE JUMP…