En route to Las Vegas aboard Air Force One, White House Press Secretary Jay Carney was asked about the omission of same-sex binational couples from the Senate's immigration reform proposal, according to a transcript from the Office of the Press Secretary: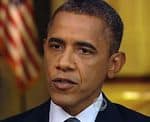 Q:  Gay rights advocated were disappointed that the Senate framework did not include extending immigration benefits for same-sex couples.  Is that a problem for the President and the administration?
 
CARNEY:  The President believes that it should be included and that should come as no surprise.  As we've said all along, this is consistent with the principles he has laid out over the last four years.  And the President has long believed that Americans with same-sex partners from other countries should not be faced with the painful choice between staying with the person they love or staying in the country they love.  And the President's position on this is consistent with how we've approached prosecutorial discretion at DHS and others.  So I think it should not be a surprise and it would be entirely inconsistent not to have that position.
Obama is scheduled to deliver remarks just before 3 pm EST.