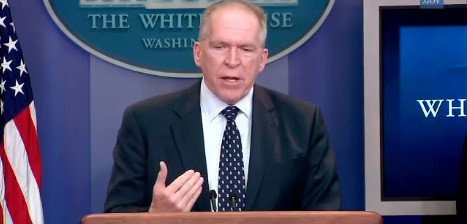 Obama's chief counterterrorism advisor John Brennan, seen here taking questions after the Bin Laden raid, will be named as director of the CIA, NBC News reports:
Brennan worked at the CIA for 25 years, including a stint as station chief in Saudi Arabia. He also served as chief of staff to then CIA Director George Tenet from 1999 to 2001, when he was named the agency's deputy executive director.
Obama was expected to make the announcement on Monday.
As Brennan has been involved in major national security issues since 9/11, he should be able "to hit the ground running" at the CIA, one official told NBC News.
If confirmed, Brennan will succeed retired general David Petraeus, who resigned amid a scandal over an extramarital affair with his biographer.