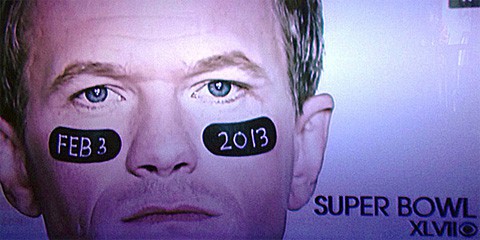 Conservative web publication World Net Daily is accusing CBS of "pushing a gay agenda" and "mocking Christians" with its new Super Bowl ad, which features Neil Patrick Harris wearing eyeblack in which is written the dates of the game.
CBS, the television network airing the big game this year, is now using an outspoken homosexual actor to mimic Tim Tebow's style of trumpeting messages in eyeblack on his face.
During Sunday's matchup between the Indianapolis Colts and Baltimore Ravens, the network broadcast several spots promoting the network's upcoming Super Bowl coverage in New Orleans…
…Tim Tebow, known for his Christian faith as well as football, became world famous for proclaiming Bible verses such as John 3:16 on his eyeblack, especially when he played for the University of Florida Gators before going pro.
One football fan who watched the CBS promo Sunday made the connection between Harris and Tebow, saying, "They're pushing a gay agenda by using him, and they're mocking Christians at the same time."
The rag then goes on to note that Harris "makes no secret" of his homosexuality, has received awards from the Trevor Project, and is raising sons with David Burtka they had via surrogate.
Tim Tebow, of course, is no stranger to controversy over his religious eyeblack, nor is he unfamiliar with being drawn into Super Bowl controversy. And eyeblack has been part of at least one controversial sports incident this year, when Toronto Blue Jays shortstop Yunel Escobar took the field with a gay slur ("maricon") dabbed in his, and was later suspended and fined.