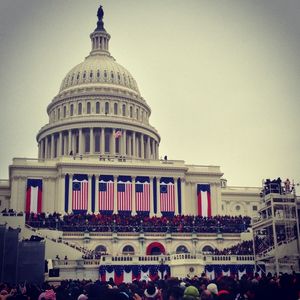 President Obama's reaffirmation of leadership at the Capitol (right, photo by James Loduca) this weekend was remarkable for its history, democratic and progressive message, and, of course, fashion. But, our community and the national media are rightly focused on the extraordinary gay rights surprise the President gave us in his inaugural speech:
We, the people, declare today that the most evident of truths –- that all of us are created equal –- is the star that guides us still; just as it guided our forebears through Seneca Falls, and Selma, and Stonewall; just as it guided all those men and women, sung and unsung, who left footprints along this great Mall, to hear a preacher say that we cannot walk alone; to hear a King proclaim that our individual freedom is inextricably bound to the freedom of every soul on Earth.
It is now our generation's task to carry on what those pioneers began. For our journey is not complete until our wives, our mothers and daughters can earn a living equal to their efforts. Our journey is not complete until our gay brothers and sisters are treated like anyone else under the law for if we are truly created equal, then surely the love we commit to one another must be equal as well.
Anyone can see that this statement was historic. It was the first time the word "gay" had been used in an inaugural address; it was the first time that "Stonewall," an iconic New York City gay bar that has become synonymous with the uprising against anti-gay police raids and the beginning of the modern gay rights movement, appeared as well. Placing Stonewall in the progression from Seneca Falls, a tiny upstate New York hamlet where the women's rights movement held a groundbreaking conference, and Selma, an Alabama town where Martin Luther King, Jr. conducted several important civil rights marches, did more than place the quest for gay equality in America's progressive tradition.
It elevated gay rights from the journey of a few to the imperative of the many.
I would like to add some legal context to the discussion and argue that President Obama's overt reference to marriage rights and Stonewall suggests that this President may be willing to use the power of his office to do nothing less than change the relationship between the American government and its gay citizens. But to do that, he must confront two related obstacles, one of his own making.
CONTINUED, AFTER THE JUMP…
First, when he came out for marriage last year, the President expressed his "personal" support for marriage, but believed that the issue should be left to the states. 
"I've just concluded that for me, personally, it is important for me to go ahead and affirm that I think same-sex couples should be able to get married," the President told Robin Roberts of ABC News in May.
In making that statement, the President made history and silenced any of his reasonable LGBT critics who found him insufficiently pro-gay. He also said that "I continue to believe that this is an issue that is gonna be worked out at the local level, because historically, this has not been a federal issue, what's recognized as a marriage."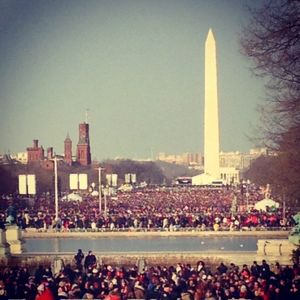 And yet his unambiguous and unconditional support for marriage in the inaugural address was different. He was telling his audience on the Maill (left, photo by James Loduca) that marriage rights are for all of us, not just those of us in blue states.
Second, marriage rights at the federal level right now depend on the Supreme Court, which will hear arguments in the Prop 8 case in March. The Obama Administration may be actively opposing the Defense of Marriage Act (DOMA) in Windsor v. United States, but it is as yet not participating in the Prop 8 case, Hollingsworth v. Perry. The President's inaugural speech leveraged his resounding victory at the hands of a diverse electorate to show the Supreme Court that there is more than just an "emerging consensus" around gays marrying. The consensus has emerged. But, his rhetoric will force him to confront his Administration's absence from the Prop 8 case.
How, then, can we explain White House spokesman Jay Carney's statement that the Administration has no plans to file an amicus brief in support of marriage in the Prop 8 case? Perhaps Mr. Carney was playing a semantic game: he did not say that the Administration will never get involved. He said he has nothing to announce on the Prop 8 case at this time. Briefs aren't due just yet, so the Administration still has time to change its position. Perhaps the Administration feels that filing a brief in this particular marriage case may not be the best strategic decision, especially if the Office of Legal Counsel or the DOJ feel the Court will toss the case on jurisdictional, i.e., standing, grounds. Maybe they are waiting for a "clean" marriage case from the States. Or, perhaps the shift in the President's rhetoric may portend a more aggressive use of his moral authority in the political, rather than the legal, sphere. That is, if President Obama sincerely believes that marriage is a state issue, he may believe that actively and fiercely supporting marriage initiatives in the states is the only legal option open to him.
Those arguments are feasible, but they make little sense to me. The first is a semantic cop-out. The second is a craven approach to something the inaugural address suggested is a moral imperative. The third is just wrong: recognizing that states are the ones that have to pass marriage laws does not preclude those laws from being anathematic to the federal constitution.
It is beyond doubt that marriage law is the realm of the states; states decide whom can marry whom. But, state laws can be unconstitutional. State laws banning interracial marriage were declared unconstitutional in Loving v. Virginia. State laws banning prison inmates from marrying were declared unconstitutional in Turner v. Safley. Therefore, believing that states have the power to define marriage cannot be inconsistent with believing that some of those definitions violate the constitution. If President Obama thinks otherwise, he should review his Constitutional Law syllabus from his days as a professor at the University of Chicago Law School.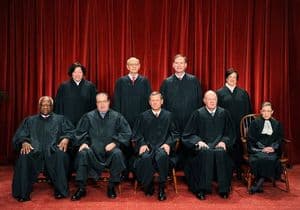 At a minimum, the President used his inaugural address to send a message to the Supreme Court in anticipation of the Court's consideration of the DOMA and Prop 8 cases in March. As I have noted before, the politics of the freedom to marry can have a direct effect on the law of the freedom to marry by showing that marriage freedom is part of the "emerging consensus" of the American public. Former Supreme Court Justice Sandra Day O'Connor, not to mention countless Court scholars, have argued and shown that the Court rarely steps too far afield from public opinion, making decisions that most often reflect a public view trending toward social consensus. It makes sense for the Court to behave this way: its legitimacy depends on public acceptance.
President Obama used the fact that he had just been re-elected by an American majority consisting of minority populations, young people, and growing powerhouses in the political arena. They didn't just tolerate his warm embrace of the gay community; rather, they grabbed it and shouted it proudly as a major reason for their support. This coalition has the potential to win national elections for years and change the dynamic of the American political map, turning places like Texas purple and Florida deep blue. 
The inaugural address, then, issued a warning: This is the America that will be living under the Roberts Court decisions, and if the legacy-conscious Chief Justice wants to keep the Court in line with the deeply held convictions of this emerging New America, he had better tread carefully when it comes to gay marriage. The President was telling the justices that you cannot support racial equality and simultaneously reject gay equality. He was telling the Court that the public — through his powerful aggressive progressive voice — will not stand for an anti-gay decision. When the Court issues its DOMA and Prop 8 decisions on the tenth anniversary of its decision in Lawrence v. Texas, President Obama will be watching, with a bully pulpit waiting to be used to attack and, if he stays true to the meaning of his words, a pro-marriage freedom brief should follow shortly thereafter.
***
Ari Ezra Waldman teaches at Brooklyn Law School and is concurrently getting his PhD at Columbia University in New York City. He is a 2002 graduate of Harvard College and a 2005 graduate of Harvard Law School. His research focuses on technology, privacy, speech, and gay rights. Ari will be writing weekly posts on law and various LGBT issues.