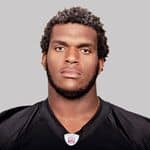 Kwame Harris, the former San Francisco 49er outed earlier this week after it was revealed he was being charged for assaulting a former boyfriend, has responded to Chris Culliver's anti-gay remarks.
Said Harris to NBC Bay Area:
"It's surprising that in 2013 Chris Culliver would use his 15 minutes to spread vitriol and hate. I recognize that these are comments that he may come to regret and that he may come to see that gay people are not so different than straight people."
Earlier…
SF 49er Chris Culliver on Anti-Gay Remarks: 'I Apologize to Those I Have Offended' [tr]
SF 49er Chris Culliver: Gays Not Welcome in the Locker Room or the NFL – AUDIO [tr]