Keith Rabois, the COO of the multi-billion dollar mobile payments company Square, stepped down late last week amid a sexual harassment lawsuit by his boyfriend who landed a job at Square with Rabois' help. Rabois is calling the legal action a "shakedown".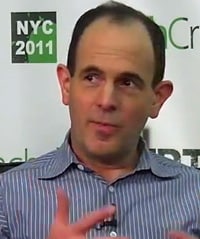 In a Tumblr post, Rabois told followers he had resigned, and offered details about his relationship and the situation:
Last week, a New York-based attorney threatened Square and myself with a lawsuit. I am told this lawsuit would allege that the relationship was not consensual, and would go on to accuse me of some pretty horrible things. I was told that only a payment of millions of dollars will make this go away, and that my career, my reputation, and my livelihood will be threatened if Square and I don't pay up.
I realize that continuing any physical relationship after he began working at Square was poor judgment on my part. But let me be unequivocal with the facts: (1) The relationship was welcome. (2) Square did not know of the relationship before a lawsuit was threatened; it came as a complete surprise to the company. (3) He never received nor was denied any reward or benefits based on our relationship. And (4), I did not do the horrendous things I am told I may be accused of. While I have certainly made mistakes, this threat feels like a shakedown, and I will defend myself to the full extent of the law.
The SF Chronicle takes a look at Rabois' background:
Rabois, who was an often-quoted spokesman for Square, is a member of the "PayPal Mafia" from his time as an early executive vice president there. He met PayPal co-founder Peter Thiel while both were students at Stanford University.
Rabois left Stanford Law School after a 1992 incident in which he unleashed a barrage of antigay remarks directed at a faculty member, according to a Chronicle report. The incident ignited a campaign by other law school students denouncing Rabois, but Stanford officials couldn't discipline him because of free speech protections.
In a book and in later interviews, Thiel said his friend had been trying to challenge the university's political correctness rules. Rabois' resume includes executive positions at LinkedIn and Slide. His LinkedIn profile also notes his seven months as policy director for Vice President Dan Quayle, when he helped develop speeches on China, the American family and "extending the VP's 'Murphy Brown' legacy."
Rabois says he resigned to spare his colleagues from "the distraction that a lawsuit would most certainly bring." He also said he has a big new project in the works.