France's government began a two-week debate on President Francois Hollande's bill that would allow gay people to marry and adopt children, France 24 reports: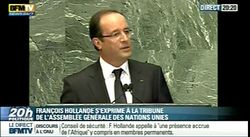 But key areas of the bill, which redefines marriage as "contracted between two persons of different sex or of the same sex", have been dropped in a bid to appease opponents.
A clause that would allow same-sex couples access to medically-assisted fertility treatment has been left out – for the moment.
Plans to ditch the words "father" and "mother" from official documents – to be replaced by "parent 1" and "parent 2" have also been removed when it concerns heterosexual couples.
Marches for and against have brought hundreds of thousands into the streets of Paris in recent weeks.
Watch an Al Jazeera report on the recent demonstrations, AFTER THE JUMP…