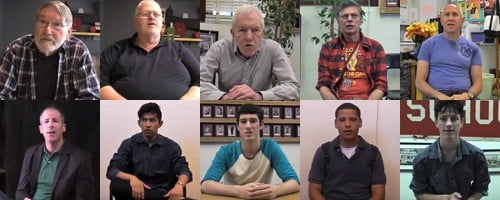 Devon Yaffe, a high school senior in L.A., sent us this clip of his Senior Project, a 90-minute documentary in which ten gay men talk about their experiences growing up and coming out. Its concept is simple and compelling.
Writes Devon:
When given the guidelines, I decided to do more than  just a high school project. I wanted to take this beyond high school and into the world. I felt so strongly about my project that there was no turning back and that deep down I knew this was going to be something life changing. During the process of this project my world had been changed, as my eyes were opened to a community in which I regretfully wasn't active. Now, after learning so much about this incredible world,  I feel I would love to be involved with the community and possibly become a gay rights activist. I am proud of my project and feel that I did, in fact, do it justice. I explored unknown territory for many gay teens. I hope that gay youth all over can see what I have created and be inspired to add their voice to the community. I feel I have created one of the best kinds of documentaries there is: the true life testimony of those who have grown up gay in a heterosexual world.
Devon knew everyone in the documentary personally except for the two eldest men, whom he met down the street from his school at a Gay and Lesbian Elder Housing center. A few of the classrooms at his school have screened his short film and his Gay-Straight Alliance is hosting a screening night.  We think he deserves an A+.
Check it out, AFTER THE JUMP…