Pastor Tony Giglio, who removed himself from Obama's inaugural line-up earlier today after a sermon surfaced in which he said, among other things, that gays will go to Hell, posted a message to his church elaborating on an earlier statement.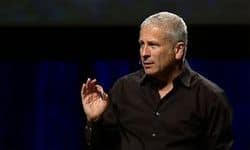 Says Giglio in part:
The issue of homosexuality (which a particular message of mine some 20 years ago addressed) is one of the most difficult our nation will navigate. However, individuals' rights of freedom, and the collective right to hold differing views on any subject is a critical balance we, as a people, must recover and preserve.
As a pastor, my mission is to love people, and lead them well, while lifting up the name of Jesus above anything else. I'm confident that anyone who knows me or has listened to the multitude of messages I have given in the last decade would most likely conclude that I am not easily characterized as being opposed to people—any people. Rather, I am constantly seeking to understand where all people are coming from and how to best serve them as I point them to Jesus.
In all things, the most helpful thing I can do is to invite each of us to wrestle with scripture and its implications for our lives. God's words trump all opinions, including mine, and in the end, I believe God's words lead to life.
Meanwhile, the religious right-wing has gone predictably nuts over the Giglio withdrawal. A bevy of reactions here.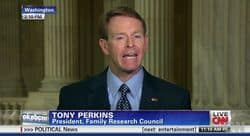 Wrote FRC's Tony Perkins:
"This is another example of intolerance from the Obama administration toward those who hold to biblical views on sexuality. Why is the president surprised that an evangelical pastor would teach from Scripture on homosexuality? One would be hard pressed to find an Evangelical pastor who hasn't preached on what the Bible teaches about human sexuality.
"Catholic, Evangelical Protestant, and Orthodox churches all actively proclaim that sexual intimacy within the marriage of one man and one woman is the only biblically-sanctioned human sexual behavior. Are the scores of millions of Americans who affirm these teachings no longer welcome at the inauguration of our president?
Added Perkins in an email:
"What a difference four years makes! In 2009, when the Left was in an uproar about Pastor Rick Warren's prayer, the President was quick to come to his defense. 'We have to disagree without being disagreeable and then focus on those things we hold in common as Americans.' Now, having revealed his true position on same-sex 'marriage,' the President seems determined to create even more division. If anything, this pulls back the curtain on the Left's real agenda. And it's not about tolerance. It's about forced acceptance. Americans need to wake up and realize that the homosexual movement cannot be appeased–not by marriage, not by special benefits, not by anything but the sanitization of Christianity from the public square."