BY SAM GREISMAN
A look back at today's top stories
GAY ISSUES
Last night Newt Gingrich appeared on Fox News and displayed a tactical bit of enlightenment when he spoke about how he hopes that Republicans will come to see the "human" side of same-sex marriage. Cory Booker has long been a leading gay rights champion, but it turns out that (like many others) a meeting with a gay person early in his life is what set him on that course. 
Good news continues in Illinois where apparently marriage equality is on a fast-track. Also check out this Canadian PSA meant to fight the prevalence of the word faggot. 
**
ENTERTAINMENT
Oscar nominations were announced bright and early this morning and Lincoln leads the pack with 12 nominations. A special congrats to my mother, Sally Field, on her nod.
The Daily Mail is raising questions about a potential David Beckham crotch stuffing scandal that is sure to rock your world. And how pumped is everyone about Justin Timberlake's upcoming single release?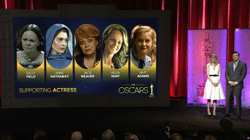 **
WINGNUTTERY
After a public outcry, the anti-gay pastor who was set to preside over President Obama's second inauguration has decided to step down. Giglio cites people with some kind of murky agenda as the reason. Also the interim Log Cabin Republican's leader explains why they will continue to blindly oppose Chuck Hagel's nomination. 
**
VIDEOS OF THE DAY
Dan Savage really wants to be able to get stoned legally and there were muthaf*cking snakes on a muthaf*cking plane in Australia!