The Rhode Island House of Representatives has voted 11-0 to send a marriage equality bill to the full House, which could vote on it as early as Thursday.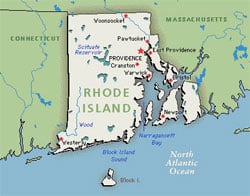 It is expected to pass the full House but faces a tougher battle in the Senate.
Governor Lincoln Chafee released a statement:
I am pleased that, with the House Judiciary Committee's vote this afternoon, Rhode Island has taken another significant step forward toward marriage equality.
As I noted in my State of the State Address last week, there are a number of reasons why we should bring marriage equality to Rhode Island this year. It is a civil rights issue, it is an issue of basic fairness, and it is an economic development issue. We are at an economic disadvantage with our neighboring states when we do not 'have the welcome mat out' for all those who want to work here and contribute to our economy. Rhode Island already lags behind all of our New England neighbors on this issue; we should swiftly remedy that for the good of our economy and the rights of our citizens.
With this afternoon's vote, we are one step closer to the day when gay and lesbian Rhode Islanders can enjoy the same fundamental rights, benefits, and privileges as all other citizens of our state. It is my hope that that day will come soon. I urge the leaders of the House and Senate to call the roll, and I will be proud to sign this important legislation when it reaches my desk.
It's time for all Rhode Islanders to contact your lawmakers….