Mike Signorile says the NFL must suspend Chris Culliver: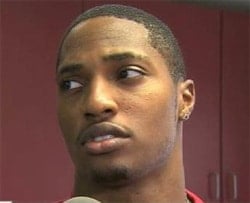 The NFL and many of its officials as well as many team owners, managers and coaches, have gone to great lengths in condemning homophobia and saying it would be fine for a player to come out as gay, that he'd be accepted and welcome. But statements like this, if they go unpunished, make all of that look like window dressing, as no player is going to even think about coming out…
…This cannot stand. The 49ers and the NFL need to take action and send a strong message. John Aravosis at Americablog points out that the 49ers suspended running back Brandon Jacobs just last month for making derogatory comments about his bosses. Are the team management saying they take it seriously when they, themselves, are insulted, but not when closeted gay players and gay fans are treated to bigoted, offensive remarks?
If there is no suspension, the message from the NFL to young people, amid continued reports of suicide by LGBT youth who experienced bullying, is that it's okay for sports players and everyone else to attack gays and demand they stay closeted and living in shame. If there are no repercussions, the NFL's words about support and acceptance of gay athletes and fans are completely empty.
Earlier updates…
Outed Former SF 49er Kwame Harris Denounces Culliver's Anti-Gay Remarks [tr]
SF 49er Chris Culliver on Anti-Gay Remarks: 'I Apologize to Those I Have Offended' [tr]
SF 49er Chris Culliver: Gays Not Welcome in the Locker Room or the NFL – AUDIO [tr]