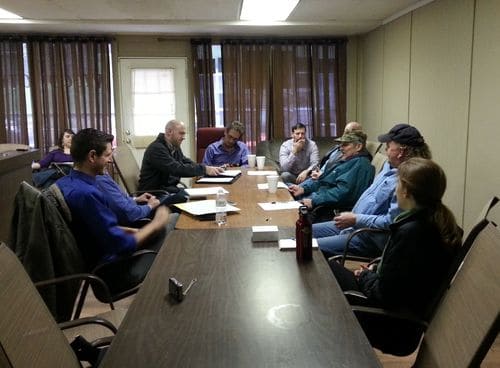 The Vicco City Commission, via the Fairness Campaign.
Vicco, Kentucky, a small Appalachian city, is the fourth in the state (and the first in a decade) to pass an LGBT non-discrimination ordinance, the ACLU reports:
Situated in the southern tip of Perry County in the Appalachian mountain region, Vicco was incorporated in 1964 and currently boasts a population of 334 residents, according to 2010 U.S. Census data. It is nestled in the heart of coal country and was originally named for Virginia Iron Coal and Coke Company, a large land business still operating in the region.
 
"Vicco is a community that believes all folks should be treated fairly," shared Vicco City Attorney Eric Ashley. "We believe everyone deserves the opportunity for life, liberty, and the pursuit of happiness. Fairness is a Kentucky value, a Vicco value, and one of our most American values."
 
Vicco's passage of a Fairness law comes on the heels of several other Kentucky communities' movements towards anti-discrimination protections through work with the Fairness Coalition of the American Civil Liberties Union of Kentucky (ACLU-KY), Fairness Campaign, Kentucky Commission on Human Rights, Kentucky Fairness Alliance, and Lexington Fairness.