PHOTO OF THE DAY: Jodie Foster in her first movie post-almost coming out.  
BY SAM GREISMAN
A look back at today's top stories
WINGNUTTERY
Just days after making comments against the notion of having a gay teammate, San Francisco 49er Chris Culliver tried to backtrack in front of the media today. Meanwhile Mike Signorile thinks that the NFL should take a stand and suspend Culliver for Sunday's game. 
Apparently hate pays a lot, at least if you're Brian Brown who gets paid a raft of money to be a bigot. Fellow hater Rand Paul called into Bryan Fischer's radio show yesterday to say that he doesn't understand gay marriage. Shocker. On that note, Aaron Schock has an extremely eloquent reason for why he doesn't support it.
If you are lesbian and driving around the Seattle area watch out for this intolerant freak. Also after his owner sent him to the pound, an allegedly 'gay dog' has been saved. 
**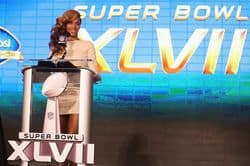 ENTERTAINMENT
Attention haters! Beyonce just put you in your place by singing the National Anthem a cappella. And keeping with the dog adoption theme from today, Zachary Quinto has a documentary short out about just that. 
**
VIDEOS OF THE DAY
Stephen Colbert explains why we are truly living in a homo golden age! Check out Carmen with a drag twist and some of the many reasons working out is such a pain.