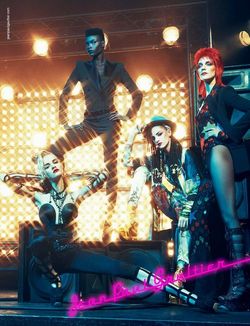 PHOTO OF THE DAY: Gay icons channeled for the newest Gaultier ad. 
BY SAM GREISMAN
A look back at today's top stories
WINGNUTTERY
Just because Illinois continues to progress toward possible marriage equality does not mean the state is without some IQ-challenged folks. Check out the 911 call from a Land of Lincoln priest who got stuck in some handcuffs while he was playing with them. NOM's Maggie Gallagher has penned her final column and it couldn't come a moment too soon. Also a former Navy chaplain tries to explain away Newt Gingrich's recent acceptance of gay marriage by saying that Gingrich is under the influence of a demonic voice. Makes sense. 
Human Rights Campaign President Chad Griffin recently caught up with former Vice Presidential candidate Paul Ryan at Tammy Baldwin's swearing-in reception. Talk about a little slice of heaven and hell. Former Calvin Klein boytoy Nick Gruber can't seem to stay out of trouble. The hottie recently totalled his current boyfriend's car while leaving a date with a woman. 
**
ENTERTAINMENT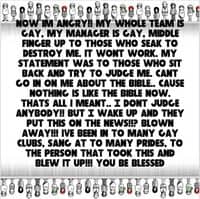 Apparently making a strangely veiled anti-gay remark has just totally ruined former American Idol winner Fantasia Barrino's week. Staying with Idol, Kelly Clarkson says that the constant questioning of her sexuality is offensive to gays. Also check out a sneak peek of a documentary about North Carolina's Amendment One. 
**
VIDEOS OF THE DAY
Rachel Maddow bids a 'so long' to the departing members of Congress. Also this is what it looks like when a hungry Polar Bear eyes you as his next snack.