Activists demanding Obama keep his first-term promise to extend workplace protections to LGBT people will gather outside the White House two days before the President's State of the Union address to demand he do so.
From activist group GetEQUAL: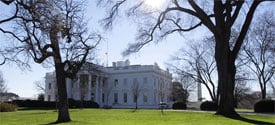 As he was running for president, then-candidate Obama pledged to extend workplace protections to all lesbian, gay, bisexual and transgender people employed by federal contractors, but has yet to deliver any policy to protect these vulnerable employees, who can be fired in over half the states in the country based simply on their sexual identity, and 39 states based on their gender identity or expression.
President Obama could offer these protections today to 16 million people with the stroke of a pen by signing an Executive Order which would protect anyone employed by a contractor who receives over $10,000/year in federal funds. As we approach the first State of the Union for the president's second and final term, GetEQUAL is reminding the president to keep the promises he made that will not only help boost our suffering economy but protect millions of workers and families.
The demonstration is scheduled to take place Sunday night at 6 pm on the south side of the White House.