Kelly Costello, a Potomac, Maryland woman whose native Peruvian spouse is threatened with deportation under DOMA, will attend the State of the Union address as the guest of Rep. Jerrold Nadler (D-NY), the lead sponsor of the Uniting American Families Act, the Washington Blade reports: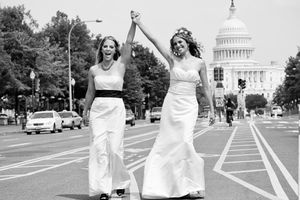 Speaking with the Blade, Costello said she's "grateful and excited" for what she called a "once-in-a-lifetime experience" — particularly in the wake of Obama's call to include bi-national gay couples as part of comprehensive immigration reform.
"This is something that we have been fighting for a long time," Costello said. "People before me have fought for it. I feel like, right now, we are living in an important historical moment where the president has already addressed providing equal rights for us, and I think it's really come to forefront."
The couple, who married in D.C. in 2011, is in danger of separation because the Defense of Marriage Act prohibits Costello from sponsoring Morales via a marriage-based green card application for residency in the United States.
The Uniting American Families Act (UAFA) was reintroduced last week (with bipartisan support), as we wait on whether same-sex binational couples will be included as part of comprehensive immigration reform legislation.