A judge has granted Olympic springer Oscar Pistorius bail as he awaits trial on charges of murdering his girlfriend, the NYT reports: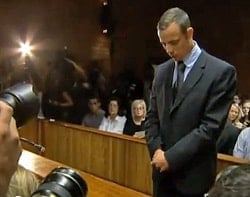 The decision was made known after Magistrate Desmond Nair heard impassioned final arguments between defense and prosecution in Courtroom C of the Pretoria Magistrates Court in the presence of an emotional Mr. Pistorius who has testified that he mistook his girlfriend, Reeva Steenkamp, for an intruder and never intended to kill her.
Mr. Nair said Mr. Pistorius did not represent a "flight risk," and was not likely to interfere with state witnesses.
"The accused has made a case to be released on bail," the magistrate concluded. Pistorius family members in the packed courtroom shouted: "Yes!"
The terms of the bail were not immediately disclosed.
A BBC report on this morning's hearings, AFTER THE JUMP…