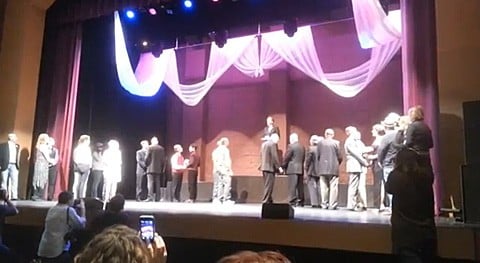 In Bloomington, Indiana yesterday, where same-sex marriage is not legal, Mayor Mark Kruzan symbolically wed 13 couples at the Buskirk-Chumley Theater downtown in a protest for equality.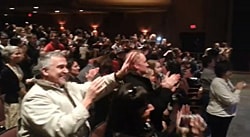 "History will not smile kindly upon those who advocated against equality," said Kruzan. "The reason I was so pleased to participate this evening is that I want you to know that there are many elected and public officials willing to and wanting to recognize these unions. It's time same-sex marriage was recognized by all. I would like you to meet some people who agree."
A group of elected and church officials then took the stage to witness the occasion.
Check out the amazing video, AFTER THE JUMP…
Don't miss our other recent Gay Wedding videos…
Gay Wedding Video of the Day: Andrew and Rob [tlrd]
Gay Wedding Video of the Day: Tony and Kevin [tlrd]
Gay Wedding Video of the Day: Aaron and Danny [tlrd]
Gay Wedding Video of the Day: Eli and Dave [tlrd]
Gay Wedding Video of the Day: Robert and Nathanael [tlrd]