Back in September we reported that David Cecil, a British theater producer, had been jailed in Uganda after staging the country's first gay-themed play, The River and the Mountain. Cecil was later granted bail.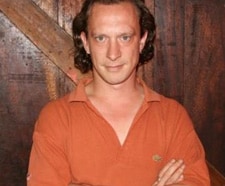 He has now been deported, AFP reports:
"We have confirmation of deportation," High Commission spokesperson Chris Ward told AFP.
"We are quite concerned that he has not had the opportunity for due process under the Ugandan system," he added.
Cecil's partner Florence Kebirungi, who has two children with him, said he was likely "already back in the UK." She said he was taken on Monday evening from the police station where he was being held to the capital's main airport, where he was put on a flight for Britain.
"He called me from the airport, he didn't sound OK," she said, adding that immigration officials told her that Cecil was being deported because he was an "undesirable" person. "It is a big surprise as we did not have a chance to make a legal challenge," she told AFP.