[SPOILERS – Don't read if you haven't seen last night's episode]
Rob James-Collier on the reaction to the action in last night's Downton Abbey episode: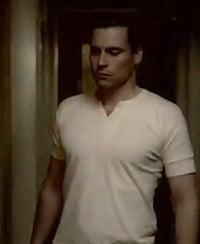 It could be proper HBO. It's quite gritty and dark, isn't it? Thomas becomes besotted. Let's face it, he borderline stalks Jimmy. He turns into an Edwardian sex pest. It's pretty bad. But then he goes on this huge journey and he's being manipulated by O'Brien into thinking this guy feels the same way. And he knows he doesn't. The fallout from my kissing Jimmy was really dramatic….
It's great to see there's an impact downstairs and it's not just those bastards upstairs. Thomas gets quite choked up, doesn't he? And then after he kisses Jimmy, he's just completely distraught and destroyed and vulnerable, and you feel sorry for him. I've had people come up to me in the street and go, "Oh my God, Thomas made me cry last night, and I hate you for making him make me cry because I love to hate him." I'm messing up people's lives. There was this punter who came up to me on the tube and goes, "Listen, mate, I don't normally watch period drama." That's how it always starts, and the next line is, "my missus watches it." And then the third is, "but I've actually started liking it. You f**king the man, man. Last night, the tears…" and then he just walks off! And you think, This is what I do it for…
…I just want to say thank you to everyone who watched and tuned in and loved my evil gayness.
More of his Vulture interview here.