Tracey Hepner, the wife of Army Brig. Gen. Tammy Smith, the first openly gay general in the military, will sit with Michelle Obama during the State of the Union Address, the WaPo reports: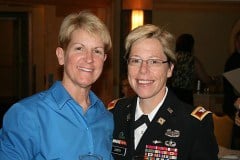 Tracey Hepner of Arlington, who co-founded the Military Partners and Families Coalition, a support group for LGBT military partners and their families, has been chosen to sit with first lady Michelle Obama during the State of the Union address Tuesday night, the White House said Monday.
Hepner works for the Department of Homeland Security as a master behavior detection officer…A White House official said the first lady's box will include a variety of Americans whose lives would benefit from the policy proposals President Obama will announce Tuesday, including victims of gun violence, military families and those involved in immigration reform.
Hepner and Smith were married last March.