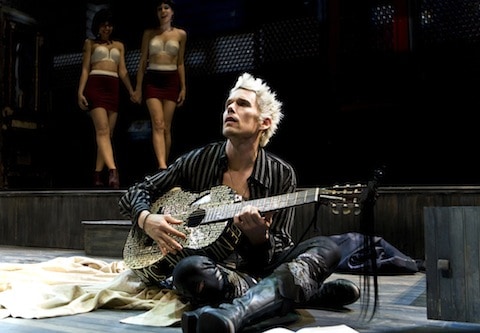 BY NAVEEN KUMAR
Realism bites—and so does
reality, for that matter. Before Ethan and Winona, there was Bertolt Brecht, the
anti-naturalist whose 1923 play Baal,
about the self-propelled downward spiral of a poet-cum-anti-hero, serves
as inspiration for Jonathan Marc Sherman's Clive, which opened Off Broadway last
night in a New Group production at the Acorn Theatre.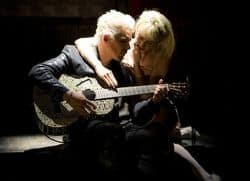 Appropriately enough, Sherman
sets his retelling—directed by and starring frequent New Group collaborator
Ethan Hawke—squarely in the Gen-X hunk's heyday: that angsty, flannel-clad era
when grungy rock stars burnt up quickly with unironic rage, the 1990s. It's a
far cry from Brecht's pre WWII Germany, but the portrait of an
artist-as-hedonistic-narcissist is a tale as old as time.
Sherman refashions Brecht's
drunken German poet into a drunken New York City musician named Clive, played
by Hawke. Following the basic framework of Brecht's plot, the play presents a
series of disjointed, episodic scenes rather than a clear, conventional storyline. Though increasingly bizarre in style as the play progresses, scenes chronicle the sort of typical bad behavior
you might expect from a rocker who looks like Ethan Hawke living in 1990s New
York City—plenty of booze, pills, and of course, much womanizing with consequences
of varying severity. 
You shouldn't need to know
much about a play's source material to greet it on its own terms (although the
New Group does provide a written insert), but a few minimally nuanced tidbits
from Brecht's Wiki might be helpful here for anyone who didn't go to drama
school.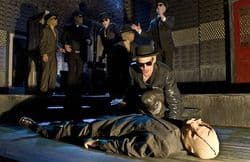 Though Brecht wrote Baal when he was twenty, before fully developing
his signature theory and practice of 'epic theatre' (and becoming a staunch
Marxist), nascent elements of it are on display here. Brecht and his peers were
foremost insistent that the audience never get swept up by the action of a play
and forget that they're sitting in a theatre. Actors speak their actions ("I
wept, openly!") often in place of performing them, and frequently address the
audience directly, breaking the so-called fourth wall.
Alienation, though not an
accepted translation of Brecht's desired effect, can feel pretty accurate in Sherman and Hawke's borrowed aesthetic.
Hawke's ensemble cast includes
Vincent D'Onofrio (Law & Order:
Criminal Intent), indie
darling Zoe Kazan (Angels in America),
comic chameleon Brooks Ashmanskas (Promises,
Promises), and the playwright himself, each juggling a variety of
characters, most of whom are mistreated by Clive or worse on his way to rock-bottom.
The production's integration
of musical effects is both inventive and seamless, thanks in no small part to Derek McLane's
imaginative set design with uncommon instruments built into its doors. Though with
both playwright and director busy on stage, Hawke's staging seems to lack the
benefit of an outsider perspective.
Brecht and the distinct style
of theatre he pioneered are definitely not for everyone—i.e. if you prefer your
theatre served straight-up, complete with empathetic characters and storylines
and a slice-of-life for dessert, you'll likely want to fill up elsewhere.
Otherwise you might ask your neighbor to nudge you awake three quarters in, so
at least you can say you saw Ethan Hawke topless in a 199 seat theatre. 
Clive continues performances Off Broadway at the Acron Theatre through March 9th. 
Recent theatre features…
Martin Moran's 'All The Rage' Opens Off Broadway: REVIEW
Ben Rimalower Is Working Through His 'Patti Issues' At The Duplex: INTERVIEW
'Picnic' Starring Sebastian Stan Opens on Broadway: REVIEW
'The Other Place' Starring Laurie Metcalf Opens On Broadway: REVIEW
Rob Ashford Takes on 'Cat On A Hot Tin Roof' on Broadway: INTERVIEW
Follow Naveen Kumar on Twitter: @Mr_NaveenKumar.