Former Senator Larry Craig's infamous Minneapolis airport restroom cruising is back in the spotlight, McClatchy reports: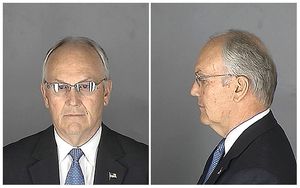 A federal judge this week will confront the surprisingly important fallout from former Idaho Republican Sen. Larry Craig's 2007 bathroom arrest.
Craig's own money may be on the line Wednesday, but that's not all. Other politicians, too, could have a future stake in what U.S. District Judge Amy Berman Jackson says about how campaign dollars can be spent.
The Federal Election Commission says Craig improperly used more than $216,000 in campaign funds to pay attorneys after being charged with disorderly conduct for his behavior in a Minneapolis airport men's room. Craig's attorneys insist he was on official business and so could use his campaign treasury as other legally embattled lawmakers have done before him. The judicial resolution to this dispute could have a broad reach.
Craig is now a principal in New West Strategies, a self-described "strategic advocacy" firm with offices in Washington and Eagle, Idaho.
No word on how often he visits his old stomping ground on layovers.