Frank Ocean is far into his follow-up to Channel Orange, MTV News reports: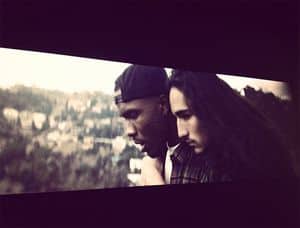 Speaking to BBC Radio 1's Zane Lowe on Tuesday, Ocean said he's "Like 10,11 songs into this next thing. It's another cohesive thing bordering on a concept record again." The usually soft-spoken, reticent Ocean was in good spirits, laughing along with Lowe and saying his Grammy wins were "quite the rollercoaster … I was pretty stoked," admitting that he would have "screamed in my highest note" if his name had been called for Record of the Year, which was presented to Gotye by their mutual idol, Prince.
Ocean explained that the new, as-yet-untitled disc might take off from a moment at the end of Orange. "There's 'Golden Girl' and it's this beach scene and I kind of want to extend that feeling into the next record," he said. "I'm going to Bora Bora when I get back … I put a studio in my house, but it's all in road cases. I'm going to take it all to Bora Bora and work for a few weeks."