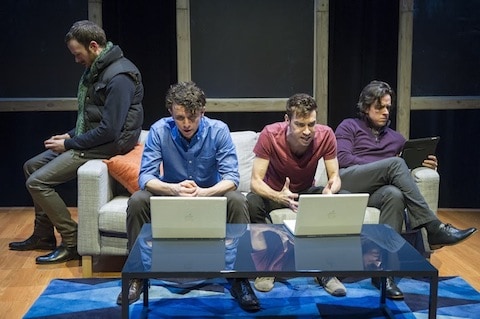 BY NAVEEN KUMAR
Imagine making a movie, 15 years later, about your teenage torment at the hands of a high school bully — and
winning an Oscar for it. Now, imagine that bully watching the televised broadcast
when you name him, specifically, in your acceptance speech. The look on his
face kicks off the story of From White
Plains, which opened Off-Broadway last week in a Fault Line Theatre
production at the Perishing Square Signature Center.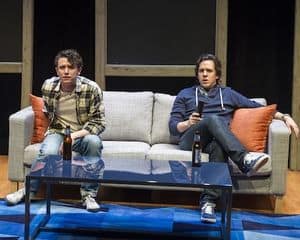 The scene could just as easily mark
another story's happy ending — one that begins with a boy bullied on the
playground, follows his search for self-acceptance and success as an artist,
and ends with a trip to Los Angeles (handsome boyfriend in tow) to collect the
most coveted affirmation in Hollywood. But White
Plains writer and director Michael Perlman isn't interested in telling a
one-sided story.
Thirty-year-old Ethan Rice (played
by Aaron Rossini), hearing himself named on the Oscar telecast, learns for the
first time that his teenage bullying had tragic, unforeseen consequences. In the
film, Ethan's former classmate Dennis (Karl Gregory), portrays not just his own
experience but that of his best friend, whose suffering at Ethan's hands led him
to suicide.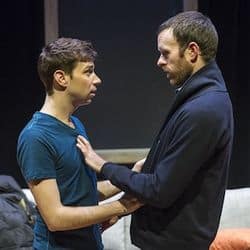 In response to being publicly blamed
for the horrible outcome he never imagined as a teenager, Ethan releases an
apology video online. Dennis follows with a swift rebuttal, and the two men engage
in the sort of drawn-out virtual face-off that's become a pop-culture staple.
Dennis' boyfriend Gregory (Jimmy King) tries his best to intervene, asking
Dennis whether airing his anger in front of the whole world really makes him
any happier.
While the premise is pretty near
fantasy — it's hard to imagine Dustin Lance Black name-calling in an acceptance
speech, and where is this guy's publicist? — the play that unfolds from there is both
impressively circumspect and firmly grounded in its characterizations.
Where sympathies lie in a story
like this one would usually be pretty clear, but the play succeeds in upending
expectations and presenting an insightful and honest look at all sides an
unfortunately all-too-familiar story. Between Dennis' passionate crusade to combat childhood ghosts, and Gregory's resistance to come out to his own parents, the play also becomes a thoughtful meditation on pride, shame, and the dynamics of love and sexual identity.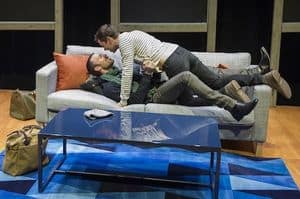 Directing his own play with a sure hand,
Perlman doesn't shortchange any of his characters — each member of the talented four-man
ensemble (rounded out by Craig Wesley Divino as Ethan's best friend) has a
clearly defined emotional life worthy of careful consideration.
Though it's clear that Ethan was just
another self-conscious kid, trying to get laughs from his friends at others'
expense, Dennis is still struggling — not only to overcome the death of his best
friend, but to combat the echoing voice of self-hate that Ethan planted in his
head during their formative years.
Without letting the bully — or the society of which he's a product — off the hook, Perlman poses the possibility of forgiveness
for someone whose worst transgressions happened when he was young, insecure,
and ignorant of the profound damage he might cause. The play examines lasting scars schoolyard brutality, while acknowleding that placing blame isn't quite so simple.
Recent theatre features…
Tectonic Theatre Project Presents 'The Laramie Project Cycle' At BAM: REVIEW
Ethan Hawke Opens in 'Clive' Off Broadway: REVIEW
Martin Moran's 'All The Rage' Opens Off Broadway: REVIEW
Ben Rimalower Is Working Through His 'Patti Issues' At The Duplex: INTERVIEW
'Picnic' Starring Sebastian Stan Opens on Broadway: REVIEW
Follow Naveen Kumar on Twitter: @Mr_NaveenKumar ( photos: jacob j goldberg)