Floyd Corkins, the Virginia man charged with shooting a Family Research Council employee in August, pleaded guilty today, CNN reports: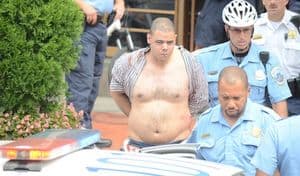 Floyd Corkins, 28, pleaded guilty to three charges related to the shooting at the conservative policy group's Washington headquarters. The counts included committing an act of terrorism, interstate transportation of a firearm and ammunition, and assault with intent to kill while armed. Prosecutors dropped seven other charges. It's unclear whether the plea deal will reduce the 70 years in prison that he could face following his conviction. Corkins will be sentenced April 29, prosecutors said.
…Prosecutors proposed in December that he plead guilty to the three charges, although his attorney, David Bos, had expressed concern about the offer at the time. The act of terrorism charge alleges that Corkins wanted to kill Johnson and other Family Research Council employees "with the intent to intimidate and coerce a significant portion of the civilian population of the District of Columbia and the United States." It's a District of Columbia law that was passed in 2002 but had never been used.