Freedom to Marry has announced they'll spend $2 million in 2013 to advance marriage equality efforts around the country, Buzzfeed reports: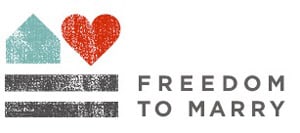 According to a statement provided to BuzzFeed, Freedom to Marry is starting the 2013 effort — called the Win More States Fund — by investing $800,000 in the six states where marriage bills are being debated: Delaware, Hawaii, Illinois, Minnesota, New Jersey, and Rhode Island.
"Building on our 4 for 4 ballot victories in November, Freedom to Marry is calling on supporters to join us in continuing the momentum and winning still more states in 2013. With the clock ticking on the Supreme Court's review of marriage cases, we want to make as much progress as we can – and with battles already underway now in state capitals, we all need to put our money where our momentum is," Evan Wolfson, founder and president of Freedom to Marry, said in a statement.