Rep. Jerrold Nadler (D-NY) is set to reintroduce the Uniting American Families Act on Tuesday, the Washington Blade reports: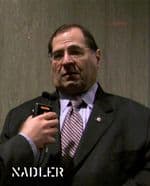 The legislation, known as the Uniting American Families Act, is expected to be introduced in the U.S. House but not the Senate, according to two sources familiar with the bill.
Although information on co-sponsors wasn't immediately available, the bill is expected to have bipartisan support. Last year, the bill found support from Reps. Charlie Dent (R-Pa.) and Richard Hanna (R-N.Y.) in the lame duck session of Congress in addition to the 145 Democrats who supported the bill.
Introduction of UAFA in the Senate isn't expected to be concurrent with House version. Sen. Patrick Leahy (D-Vt.) has pledged to reintroduce the legislation in that chamber. It's unclear when the Senate companion of UAFA would be introduced.
The legislation would enable gay couples to sponsor their foreign partners for a green card. It's still unclear whether gay couples will be included in a comprehensive immigration reform bill, although President Obama has demanded it.