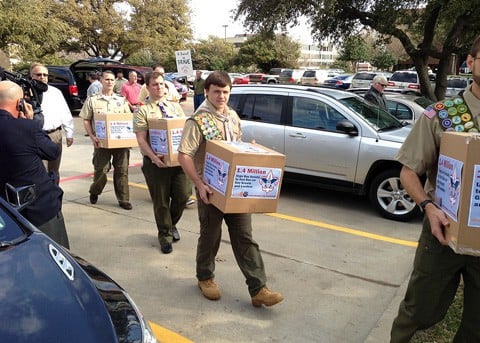 A group of gay scouts and allies delivered 1.4 million petitions to Boy Scout headquarters in Dallas today calling for an end to the gay ban, GLAAD reports:
Four Scout leaders whose petitions on Change.org sparked a national movement to end the Boy Scouts of America's anti-gay policy, delivered more than 1.4 million signatures from their combined petitions to the Boy Scouts headquarters today, the same day that the Board of Directors for the Boy Scouts start a three-day meeting at which they'll discuss a proposal to allow local Scout Councils to welcome gay Scouts and leaders. They were joined by Brad Hankins, Campaign Director for Scouts for Equality, as well as representatives from GLAAD and Change.org.
Jennifer Tyrrell, a gay mom removed as the den leader of her 8-year-old son's Cub Scout pack; Greg Bourke, a gay dad who was forced to resign his position of Assistant Scoutmaster; Eric Andresen, the father of an 18-year-old Boy Scout who was barred from receiving his Eagle Award because of his sexual orientation; and Will Oliver, a gay Eagle Scout and student at Northwestern University, all traveled to Dallas to deliver their petitions and urge the Boy Scouts of America to end their national ban on gay Scouts and gay Scout leaders.
Watch their press conference (it was windy) shot by the Dallas Voice, AFTER THE JUMP…