The WaPo's Al Kamen reports that Rufus Gifford, former Democratic National Committee finance chair and Obama's 2012 campaign fundraising chief, is at the top of the list to be ambassador to Denmark: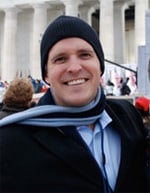 The longtime Democratic fundraiser and activist in the gay community would be the second openly gay ambassador named to a NATO ally. The first, James Hormel, served in the latter part of President Bill Clinton's second term as ambassador to Luxembourg.
Gifford's ex-partner Jeremy Bernard — also a formidable fundraiser and major Democratic pol — is the first man and the first openly gay person to be White House social secretary. Gifford and Bernard, who remain good friends, had been called one of Washington's top "power couples."
Obama fundraiser LAurie Susan Fulton left the position earlier this month.