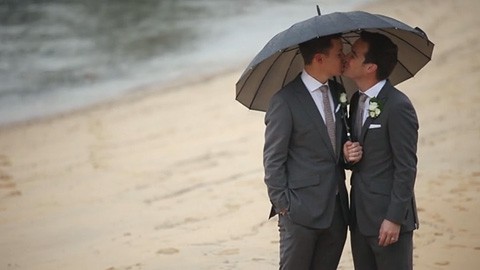 Australia's Same Same profiles Clinton and Callum, who held their wedding in Watson's Bay, Australia in November after having a civil partnership in Great Britain: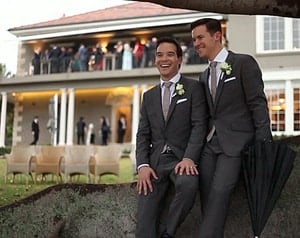 We, like so many people in Australia, support marriage equality. When Callum proposed, we originally were going to wait until it became legal. There is just something special about exchanging vows that has more impact if they were legally recognised.
But the thought of waiting for 5, 10 or even 15 years for legalities to catch up with social opinion was just not an option for us. The thought of someone else deciding when we were ready for this next chapter in our lives didn't seem to sit well – why should politics dictate when we feel that we are ready to get married, or at all?
To our friends and family this day is not a wedding between two men or even a civil ceremony, as it is most commonly called. But it is simply a wedding.
We hope that our day was an example to society of what a modern day wedding looks like. It's not a man and a woman, a man and a man or even a woman and a woman… but two people, standing in front of the most important people in their lives expressing their love and devotion to each other, witnessed by family and friends and recognised my law.
Watch their video, AFTER THE JUMP…
Don't miss our other recent Gay Wedding videos…
Gay Wedding Video of the Day: Bloomington, Indiana Mayor and 13 Same-Sex Couples [tlrd]
Gay Wedding Video of the Day: Andrew and Rob [tlrd]
Gay Wedding Video of the Day: Tony and Kevin [tlrd]
Gay Wedding Video of the Day: Aaron and Danny [tlrd]
Gay Wedding Video of the Day: Eli and Dave [tlrd]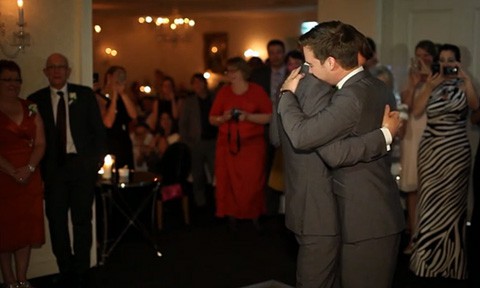 Clinton & Callum from Soda Films on Vimeo.