GLAAD is honoring Anderson Cooper with its Vito Russo Award at its Media Awards in New York on March 16, it announced today: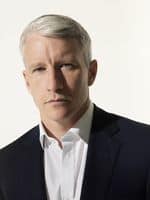 Anderson Cooper has long been an advocate for the LGBT community. His wide range of subjects includes the bullying of LGBT youth, families supporting their transgender children, and the dangers of the so-called "ex-gay conversion therapy." For his coverage of issues relevant to the LGBT community, Anderson Cooper has received seven GLAAD Media Award nominations, and has been awarded the trophy three times.
"By sharing his own experiences as a gay man, Anderson has reminded millions of Americans that LGBT people are part of their everyday lives and an integral part of our cultural fabric," said GLAAD President Herndon Graddick. "He continues to raise the bar and set a new standard for journalists everywhere, and I'm proud to call him a friend."
The award honors an out LGBT person who has made a significant difference in promoting equality.