Some tough words for Dick Cheney from Rep. Walter Jones (R-NC), Salon reports: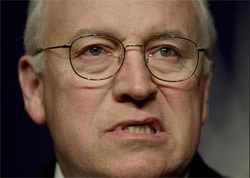 "Congress will not hold anyone to blame. Lyndon Johnson's probably rotting in hell right now because of the Vietnam War, and he probably needs to move over for Dick Cheney," Jones, a libertarian who is often critical of the war in Afghanistan, told a Young Americans for Liberty conference in Raleigh this weekend…
…Jones was once a Neo Conservative hawk, spearheading the effort to change the name of French fries in House cafeterias to "freedom fries" after France declined to support the Iraq war. But he's since had a change of heart and is now one of the most outspoken critics of American interventionism, picking up the mantel left by [Ron] Paul.