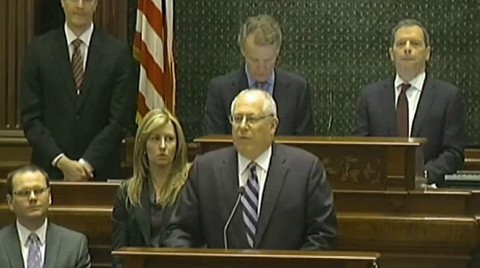 Illinois Governor Pat Quinn gave his 'State of the State Address' yesterday and heralded the approach of marriage equality:
Four years ago, nobody thought civil unions would be possible here. Today, civil unions are the law of our state. And nearly 5,200 couples across 94 counties have joined in a civil union.
Now, it's time to take that next step in achieving full equality.
Marriage equality is coming to Illinois. And yesterday was a great start in the Senate Executive Committee. I want to thank Senator Heather Steans and Representative Greg Harris for their work to move Illinois forward. Let's pass this bill for marriage equality.
Senate lawmakers plan to make a vote on the marriage equality bill on Valentine's Day.
Quinn's full address is posted, if you're interested, AFTER THE JUMP…
Not following us on Twitter @TLRD yet? We appreciate it when you share and RT our content using the buttons below.