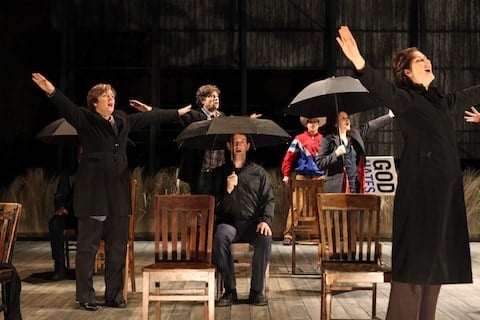 BY NAVEEN KUMAR
Just months after the fifteenthanniversary of Matthew Shepard's death, the Tectonic Theatre Project presentsboth plays of The Laramie Project Cycleat Brooklyn Academy of Music, performing in repertory at the Harvey Theater through February 24th.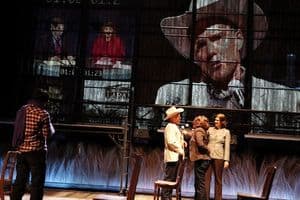 These extraordinary productions,helmed by Tectonic's resident director Moisés Kaufman (The Heiress), are proof of TheLaramie Project's lasting ingenuity. Then, as now, this is provocative,innovative, and wrenching theatre—and its call to arms for social justice is asurgent as ever.
In the fall of 1998, just one monthafter Shepard's death, members of the theatre company travelled to Laramie,Wyoming to interview its citizens about their experience with one the country'smost notorious hate crimes and its explosive aftermath—including the ensuingmedia frenzy, investigation and trail of Shepard's murderers, and how all ofthis affected the small western town.
Beautifully assembled usinginterview transcripts, company member journal entries, and other publishedaccounts, the result is a searing and powerful play that offers rare insightinto the emotional lives of those immediately affected by a tragedy that quicklyescalated to the national level. The company conceived a second play by thesame process in 2008, The LaramieProject: Ten Years Later, to follow up on developments in the community.
This momentous New York production ofboth plays reunites most of the Tectonic company members who traveled toLaramie and conceived the original project, which has since been adapted intoan HBO film and seen thousands of productions around the country.
CONTINUED, AFTER THE JUMP…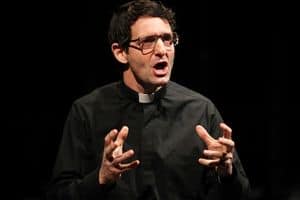 The expert ensemble of eightperforms dozens of different characters with ease and precision, often usingone indicative article of costume—like a jacket or pair of glasses—to switchbetween finely drawn characterizations. Original company members also playthemselves, relaying observations they made in Laramie fifteen years ago.
Simple, compelling visual designand fluid direction for both productions are characteristic of Tectonic's styleand practice of staying focused on voices and ideas without unnecessarydistraction.
The more viscerally emotional ofthe two, Part One of The Laramie ProjectCycle is also the more successfullyconstructed drama. The play not only has a clear story to tell—that of themurder and its immediate aftermath—but its voices speak with the urgency andemotional intensity that follows hot on the heels of national tragedy.
Mostly addressing the audiencedirectly, company members and characters tell their personal stories—fromMatthew's friends and University teachers, to the teenage boy who found himtied up to a fence, the policewoman first on the scene, and the spokesman andCEO of the Colorado hospital where Shepard died after spending severalnationally publicized days on life-support.
The immediate outpouring ofsentiment and national attention had necessarily died down when the companyreturned to Laramie ten years later, which was precisely their reason forcreating a follow-up project. While the second play indeed feels like a vitallyimportant companion piece, it's not quite as solidly constructed a work ofdrama. 
Developments they discover—like theslow road to political change, and a lingering theory promoted by an episode of20/20 that Shepard's murder was arobbery gone awry and not in fact a hate crime—are undoubtedly key pieces ofthe story to understand. However, without the clear framework of a story, theinsights feel more piecemeal.
Part Two of the cycle also includeschilling prison interviews with both of Shepard's murderers, Aaron McKinney andRussell Henderson, as well as inspirational words from Judy Shepard, whosepolitical activism paved the way for the Hate Crimes Preventions Act bearingher son's name, which Obama signed into law in 2009.
Our national imagination has a naturaltendency to forget the distinct, immediate heat of galvanizing tragedies sovividly captured in The Laramie Project.This one is worth a reminder.
Recent theatre features…
Ethan Hawke Opens in 'Clive' Off Broadway: REVIEW
Martin Moran's 'All The Rage' Opens Off Broadway: REVIEW
Ben Rimalower Is Working Through His 'Patti Issues' At The Duplex: INTERVIEW
'Picnic' Starring Sebastian Stan Opens on Broadway: REVIEW
'The Other Place' Starring Laurie Metcalf Opens On Broadway: REVIEW
Follow Naveen Kumar on Twitter: @Mr_NaveenKumar (photos: julieta cervantes)