Romney's lead strategist Stuart Stevens writes in the Washington Post today that it wasn't the so-called "tech gap" that lost Romney the election, it was the substance of his platform: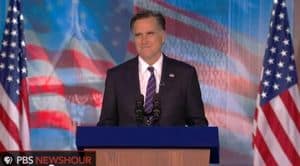 Yes, the Romney campaign won seniors and lost voters under 30, though our numbers were a significant improvement from the 2008 presidential campaign. But was this a tech-driven gap or more reflective of substance?
Like most things in life, the answer is a bit of both. I don't think it's very controversial to suggest that a candidate who favors gay marriage and free contraception might have more appeal to a younger demographic. Does anyone want to argue that free contraception is seen as a more pressing issue to your average 21-year-old than to a 55-year-old voter, or that there are more gay rights organizations on college campuses than in VFW halls?
Likewise, why did Mitt Romney win older voters? They are more concerned with the economy than with same-sex marriage, and they are more skeptical of or opposed to Obamacare.
"Content is king" argues Stevens, and the Republican party's content at the moment, just isn't.